We recently debated an argument between two brilliant people: Richard E. Clark and Robert B. Kozma. The issue was the usefulness of media as an instructional tool. On the one side, Clark et al. believe that "media (video, computers, technology) will never influence instruction." In a nutshell:
Media is not a replacement for quality instruction.
Media is interchangeable; method is not.
Media are delivery vehicles for instruction and do not directly influence learning.
Media are not directly responsible for motivating learning.
Therefore, expensive media are uneconomical, because quality instruction could easily be delivered in a different and less expensive way.
Kozma argues that media are in fact important tools in instruction, worth the cost (when employed correctly), and that the use of media and technology does indeed have a tangible benefit on learning.
I was assigned to argue on the Clark side of things, and at first I was less than thrilled. Simply by reading the titles of the two author's papers, I knew I agreed — strongly, even — with Kozma. But now, I'm not so sure. Clark does make some very interesting points. Considering the cost of media and computers, are we really getting our money's worth in improved instruction? I'm not so sure we are.
Media and Motivation
On the other hand, I take issue with point #4 above. From my own experience, I have found this to be somewhat untrue. For over a decade, my father tried to get me to use a planner. He said it would improve my ability to keep on task, complete homework, and be on time. And he was right. I knew he was, so I let him get me one. Except — it never worked. I went through several planners in different sizes and shapes, and not one of them got used more than a day. It wasn't until I got myself a Handspring PDA that suddenly things began to work. I found I actually used the thing. Not long later, I was able to use a program called AvantGo to have things from the Internet right in the palm of my hand. And, I started learning things. I read articles about the subjects that interested me — simply because I could. The media let me choose my own terms for learning, and my motivation increased. I was able to learn when I wanted to, when I felt I had the cognitive abilities to do so. Since then, things haven't changed much. For years, I have almost always had my headphones on, but most of the time it's not to rock out — I burn through podcasts like crazy. I review class lectures. I look up words and terms I don't fully understand, and I take notes. I work on school projects anytime, from anywhere. Even collaboratively.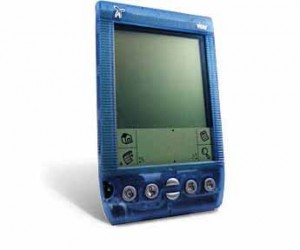 Would I have learned as much as I have over the past 10 years without these media — if my learning was confined to heavy books, lectures to classrooms only given at certain times, whether my brain can handle them or not? I'm not so sure I would. These media have given me more motivation to learn because they let me do it on my own terms. I choose to learn all the time now, simply because I can. And the novelty has yet to wear off.
In The Middle
What about the rest of the argument? There are other points of Clark's that I take some minor issue with, and some I definitely agree with. Same with Kozma. I feel that, from my own experience, they are both right. When done correctly, I do believe that computers and media can provide educational experiences well above the norm. But not always, and not for everyone. As with most of life's great debates, I think the truth is somewhere in-between.